Originally posted on December 30, 2019 @ 7:05 am
Swamp people is a History Channel TV series that started airing from 2010. The first episode of this show premiered on August 22, 2010. This show revolves around the peoples living in the Atchafalaya River Basin swamp area. Moving around the hunting of alligators, which is a yearly source of income for the people living in the swamp, this show gives an insight into life in a swamp.
Similarly, this show also teaches about the culture of peoples living in a swamp. They hunt American alligators, which is one of their primary sources of income. Alligator hunting season starts in September and lasts for 30 days, the rest of the year. So, the hunters do their own thing during the non-hunting season.
Because of the nature of the show, we can expect some casualties as well. Because alligator isn't precisely a docile creature, and the hunter's life is also at risk. Some of the cast members have even died while the production of the show was going on.
To know more about the cast of this thrilling and exciting show, stay with us. We will give you a tour of all the Swamp People cast.
Troy Landry Net Worth & Bio
Troy Landry, the man, considered the 'King of the Swamp' is currently 59 years old and was born on June 9, 1960.  He is the third generation alligator hunter in the Landry family. He is the eldest son to father Duff Landry and mother, Myrtle Landry.
Troy can be seen in almost all of the episodes of the show Swamp People. There is even a spin-off of the show, which is centered around Troy named Swamp Mysteries with Troy Landry. With his TV fame, Troy also gets some endorsements, like some products which will help him in his hunting. Landry shows off those products which might be sent by a company or fans on his Instagram proudly.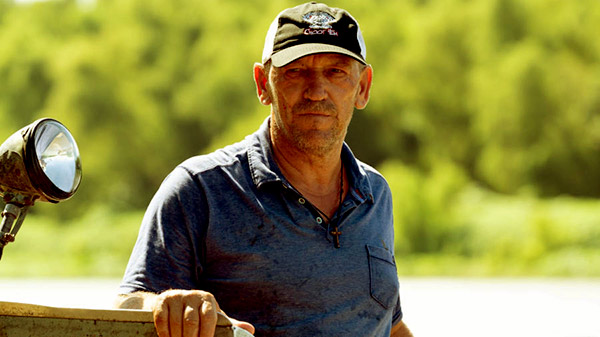 Besides being an alligator hunter, Troy is also a Crawfisherman, and reality TV star. But, he is also a father of three and a husband. Troy is a married man and has been with his wife Bernita Landry since 1981. While they have been together for 38 years, they only have three kids — Jacob Landry, Brandon Landry, and Chase Landry all three sons. Brandon and Jacob can also be seen in the show helping their father in any way they can.
With his happy family and successful business as a hunter and career as a reality TV star, Troy has garnered some wealth along with a large number of fans. Troy Landry has a net worth of $2 million which is the proof of the hard work he puts in to being a top-class hunter. Worthy of the name 'King of the Swamp.'
Liz Cavalier Net Worth & Bio
Hired by Troy Landry in the second season, Elizabeth Cavalier was quick to display her skills as a first-rate alligator hunter. She even earned the nicknames like 'Lucky Liz' and 'Gator Queen.' Born on January 21, 1970, Liz is currently 49 years old. She was born as Elizabeth Dupre and got into alligator hunting thanks to her father.
Liz is a married woman; her current husband is Justin Choate. But she was previously married to another man whose name she doesn't reveal. Cavalier has a daughter from her previous marriage Jessica Cavalier. Justin and Liz got married in the year 2014, and they are currently living together in Pecan Island. They do not have a kid so far.
With her career as an alligator hunter and Reality TV star, Liz has garnered some fans and wealth. Hence, it will be no surprise if her net worth is in six digits. Elizabeth Cavalier's net worth amounts to $300k, which is a pretty impressive amount. Both, Liz's daughter Jessica and her husband Justin have appeared in the show Swamp People as casts.
Bruce Mitchell Net Worth & Bio
Born on July 13, 1960, there have been rumors about the 59-year-old Bruce Mitchell dying. But the story is untrue, despite being false, it is still saddening as someone important to Bruce did die, his dog Tyler. Tyler died at the ripe age of 13, living a full life, he died due to congestive heart failure. Tyler was laid to rest in Bruce's family yard.
Bruce is alive and kicking, hunting alligators as usual, but with no partner anymore by his side. Bruce used to own a business in partnership with his father in law, but it fell through after some problems with his in-laws. And yes, Bruce is a married man; his wife's name is Janet Kliebert. Janet and Bruce have two daughters together, Lorraine Mitchell and Janice Marie, who were born in 1981 and 1984, respectively.
With his career as a successful reality TV star and a top-rated alligator hunter, Bruce has earned a considerable amount of wealth. Bruce Mitchells has a net worth of $400k reportedly. He is the only person who can feed alligators in his farm with hand. The level of trust he has with such an animal is unbelievable.
Randy Edwards Net Worth & Bio
Much like the other stars of the show Swamp People, Randy Edwards is also a hunter. But, he is not just a hunter; Randy is also a fisherman. Which is his family business, a profession passed down since generation in the Edwards family. Randy was born in 1983 and lived to the age of 35.
Randy is a married man and has three childrens with his wife. The father of two sons and one daughter never revealed the names of his children or his wife. Randy lived in Bayou Sorrel, La. with his family of five, this is also where he grew up. But this family man has left his family behind as he died in a car crash on 15th September 2018.
The bereaved family had condolences pouring in from everywhere, from Randy's well-wishers and fans. But, Randy would never come back. Throughout his career as a fisherman and hunter, Randy had accumulated a net worth of $500k, which he left behind for his family. Randy Edward's, swamp people, death was devastating to his fans, but mostly to his family.
Glenn Guist Net Worth & Bio
Glenn Guist is the other half of the Guist Brothers, America's best alligator hunting brothers. Mitchel and Glenn Guist grew up together, and they moved to Bayou together as well. They were very fond of each other, but alas, they are not together anymore. There has been a lot of speculation about Glenn Guist's death, yes one of the Guist brothers died, but it wasn't Glenn, but Mitchel.
Mitchel Guist, Glenn's brother, has died. Mitchel died in his houseboat while he was building it. In the memory of his brother Glenn completed the boat, and it can be seen on the show Swamp People. The brothers joined the show together in the second season of the show and were always seen together, but now Glenn alone looks incomplete.
Born in the year 1962, Glenn Guist is currently 57 years of age. He was born an raised in Gonzales, Louisiana, and fashions a long white beard. Glenn is a bachelor and doesn't seem to be planning on being in any relation any time soon. With his career as a hunter and a reality TV star, Glenn has accumulated quite a bit of wealth.
Glenn Guist's net worth is $200k, and it is no surprise considering his successful career. We pray for Mitchell and hope Glenn stays strong as he has always been.
Ashley Jones Net Worth & Bio
Not to be mistaken with the actress Ashley Jones, this Ashley from Swamp People has earned a nickname 'Deadeye.' Jones won a gator tag in a lottery and invited her friend Ronnie Adams who is one of the best alligator hunters in the swamps of Louisiana. Impressed by her marksmanship, Ronnie invited Ashley in the hunting season.
Eager at the chance, Ashley joined the boat along with Ronnie to hunt some alligators. Along with Ronnie, Ashley hunted alligators and proved her nickname. While there have been some rumors about Ashley and Ronnie being a thing in real life, it couldn't be more untrue.
Ashley is a married woman and a mother, and she is devoted to her family. Once she was fighting against depression and now alligators. Hunting took her away from depression; at first, she was hunting wild hogs, where she learned about her marksmanship skill. She joined Ronnie's boat as a guest hunter.
Ashley joined Swamp People in 2018, hence the lack of information on anything related to her. Nothing is known about her husband or how many children she has. We do know that she suffered a miscarriage in the past. Also, since Jones just recently joined the Swamp People as cast, her net worth probably isn't as impressive as the rest of the actors.
Ronnie Adams Net Worth & Bio
Ronnie Adams is the large chunk of the show. Standing tall at the height of 6ft and 5 inches, Ronnie probably looks pretty intimidating in person. He is a Louisiana local and got into alligator hunting from a young age. While he was just a kid, he used to join his grandfather in alligator hunting.
Being a professional hunter with a lot of experience, Ronnie brought in his friend Ashley Jones who is new to alligator hunting. But she has a fantastic aim and is nicknamed 'Deadeye,' with his friend Ronnie set out to hunt alligators in the 2018 season of the Swamp People.
There has been no information about Ronnie except for his weight, which is a staggering 265 pounds. It is unknown if Ronnie is married or single, but fans of the show speculate him to be single. As, the fans are pairing him up with his friend Ashley, who is already married.
Ronnie was previously in the US Army, so his net worth might be in the five digits, creeping towards six figures. But, the exact net worth for Ronnie is unknown as any financial information about him is unavailable. We know that Ronnie owns the boat, which he uses in hunting the alligators so, we know he isn't poor in the least.
Junior Edwards Net Worth & Bio
Junior Edwards is one of the most impressive men in the whole show. His courage is genuinely commendable, even fighting against such a fierce creature as an alligator. His date of birth is unknown, hence is unknown age. But we can assume that he is in his 50s.
Junior has a son Wille who appeared in the show alongside him. Wielding the Treble Hook, which Junior makes, his son would go up against alligator as well. The father-son duo is so adept in hunting alligators that they make the whole process look easy, like hunting a rabbit or an antelope. But any other person in their situation wouldn't be able to perform like them for sure.
Junior is a married man, Theresa Edwards is Junior's wife and Willie's mother. Theresa and Junior have two sons together, Willie and Randy, of which we can see Willie in the show alongside his father. The couple has been together for over 30 years, and their love is still going strong.
As for Junior's net worth, he has the same net worth as his son Willie, who works alongside him in the show Swamp People. Both father and son have $500k in net worth each. Their ancestral job of hunting has led them to make a fortune thanks to the reality TV show Swamp People.
Swamp People Past Controversies and News
Past Controversies
There has been almost no controversy among the cast members themselves, but this show has its fair share of controversy as well. Some of those controversies are,
Lafont's history of domestic assault.
Misrepresentation of alligator hunting, the threat of alligators as displayed in the show, is not the case.
Portraying alligators as bad, big mean animals which a lot of animal right activist are against.
The show fakes the wrestling between the cast member and alligator with the cast wrestling the carcass of an alligator.
Troy Landry has his catchphrases trademarked and copyrighted.
But the major controversy of the show would be the replacement of the original cast of Swamp People under mysterious circumstances. And then trying to silence those fired members afterward.
Who has left the show?
There has been a lot of cast change in this popular show revolving around hunting alligators. The whole cast has been changed at a time. But there has been no explanation regarding the removal of the cast member by the network. Except for the claim, that the cast wanted too much money for new contracts, which the fired cast members denied to.
Swamp People New Season
Swamp people being the popular show it is, already has ten seasons. The last episode of the 10th season aired on the January 31 of 2019. And the season 11 of the show has already been announced to be aired in 2020 on January 23. It will feature most casts from the last season, and we might be able to see some new faces and talents.
Swamp People Net Worth Table
| | | | |
| --- | --- | --- | --- |
| Swamp People Cast | Spouse | Net Worth | Age |
| Troy Landry | Bernita Landry | $2 million | 59 |
| Elizabeth Cavalier | Justin Choate | $300k | 49 |
| Bruce Mitchell | Janet Kliebert | $400k | 59 |
| Randy Edward | undisclosed | $500k | Died at the age of 35 |
| Ashley Jones | undisclosed | under review | undisclosed |
| Ronnie Adams | undisclosed | under review | undisclosed |
| Glenn Guist | single | $200k | 57 |
| Junior Edwards | Theresa Edwards | $500k | over 50 – under 60 |