Originally posted on December 20, 2019 @ 10:59 am
Love & Hip Hop: Miami is a famous reality show which premiered on January 1, 2018, on VH1. The show focuses on the day to day life and activities of many individuals living around Miami who are fond of hip hop music. Likewise, the show also features appearances prominent rap figures related to Southern hip hop, Reggaeton, and Latin music genre.
So are you a hip hop fan? If so, then you have come to the right place. Read the following article till the end to get into the lives of your favorite cast members of the LHHM show. Also, from the below paragraphs, get to know their own net worth.
Trina Net Worth
Trina, also known as Katrina Laverne Taylor, is a famous rapper and TV personality. She was born on 3 December 1978 in Miami, Florida, and went to Miami Northwestern Senior High School.
She began her rapping career by releasing her debut album, Da Baddest B*tch, on March 21, 2000. The album got the 30 th position on the Billboard 200. Following the success, Trina went on to release more rap albums such as Glamorest Life, Still da Baddest, Pretty Money, Amazin. Her upcoming sixth album The One is scheduled to be released in 2019 through Penalty Entertainment LLC.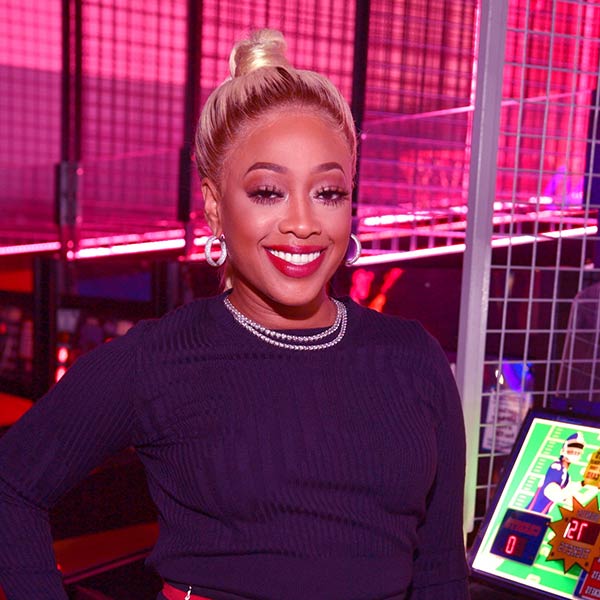 Besides her music career, Trina has also appeared in several television series as supporting roles. Furthermore, she has co-hosted Tameka Cottle's late-night show, Tiny Tonight with singer, Tamar Braxton.
Trina is one of the richest and talented rappers in the world and had a very illustrious and successful career. She appeared as the main cast in the VH1 reality TV show, Love & Hip Hop: Miami since 2018. Similarly, she is assumed to make several thousands of dollars per episode from the show. As of recent recording, the leading Love & Hip Hop: Miami cast member, Trina's net worth is at $6 million.
Relationship and affairs of Trina
Likewise, the beautiful Trina is bisexual by orientation and had several high profile relationships with celebrities. Trina first began dating rapper Lil Wayne with whom he had an on and off relationship from 2005 to 2007.
On the Weddy William show, she said that she was engaged to Lil Wayne and going to get married pretty soon. However, their relationship did not fare out as they parted ways. At the time of her relationship with him, Trina was pregnant but suffered from a miscarriage.
It was speculated that miscarriage incident could be the primary reason that compelled them to be separated from one another. After her breakup with Wayne, Trina found love in NBA star player, Kenyon Martin and started dating from 2007 to 2010.
Kenyon Martin has the image of her lips tattoed on his neck. After her breakup with him in 2010, Trina had a romantic fling with rapper, French Montana. The ex duo dated from 2012 to 2014. The former couple broke up when Montana is having an affair with Khloe Kardashian.
Currently, Trina is in a beautiful relationship with her boyfriend, Raymond Taylor 27, a businessman through occupation. Trina now 41, and inspite of having an age gap of 14 years, it does not seem to be a problem for either of them.
Trick Daddy Net Worth
Trick Daddy or famously known as Maurice Samuel Young, is a reality star and rapper known for being one of the prominent Love & Hip Hop: Miami Cast members. He was born on 27 September 1973 in Liberty City, Miami, USA.
Trick debut in the professional music world came when he met Slip N Slide Records CEO, who sponsored and inspired him to produce his first album, Based on a True Story, which was released in 1997. The album was well-received by hip hop lovers throughout the world. The success of his album motivated him to make many albums since then.
Trick Daddy has accumulated a vast fortune from his successful rapping career. Currently, Love & Hip Hop: Miami star, Trick Daddy, is earning a hefty salary from the show. Hence, it came as of no surprise that the talented and remarkable rapper, Trick Daddy's net worth is at $500,000.
Revealing his personal life, he is currently single and unmarried at the time of this writing. However, he was rumored to be romantically linked with American actress and video vixen, Karrine Steffans. Furthermore, it has been revealed from several sources. Trick Daddy has several children with two different women. But, it is not known how many children he has fathered with these women.
Bobby Lytes Net Worth
Bobby Lytes is an accomplished rap singer famous for his appearance in the reality show, Love and Hip Hop: Miami. Besides, he is also a recording artist and businessman from Florida.
Lytes was born on 24 October 1990 in Miami, Florida. His parents are Dominican. He was raised by his single mother as his father would in and out of prison for drug dealings and abuse. He has two younger siblings sisters in her family.
Bobby Lytes released his first rap album Make Some Money, which fetched him a massive amount of cash in 2016. Similarly, as per many online sites, he is estimated to make $400,000 salary per season from Love & Hip Hop: Atlanta, so we assume that he is earning a similar amount from his current show, Love & Hip Hop: Miami.
Hence, Bobby Lyte's net worth is at $500,000. With his impressive networth, he is living and enjoying life by driving expensive fast cars and residing at a luxurious mansion.
Moreover, Bobby is also the cousin of Trina, who is also one of the main cast members of the LHHM show. On to his private life, he is an open gay. The R&B singer Bobby Lytes was previously in a relationship with his boyfriend, Jeffrey, who is a businessman by profession. However, their relationship went downhill when Jeffrey began to have an affair with Bobby's ex-boyfriend, Malik Wiliams.
Amara La Negra Net Worth
Amara La Negra, aka Dana Daelys De Los Santos born on 4 October 1990 in Miami, Florida. Her mother, Ann Maria Oleaga, raised her. She was interested in being a singer since her early childhood days.
Amara entered the mainstream media after the release of her song, Asi, in 2015. However, the highlight of her career came where she appeared as one of the Love & Hip Hop: Miami cast members in 2018. She has collaborated with Fast Life Entertainment Worldwide from BMG.
She is under contract with United Talent Agency. Amara La Negra has amassed her professional career as a model, dancer, and actress. Her net worth is $1.5 million. Moreover, she is also the owner of a clothing line known as the ALN clothing line, which focuses in sellings swimsuits, sportswear, and bags. It is for sure that with such business endeavors, her income has also further increased significantly.
Moving on to her relationships and dating history, she may be single due to a lack of information concerning his love life. Currently, Amara is busy making her professional life, which has left her no time for seeking loving or dating any boyfriend.
Christopher Michael Net Worth
Christopher Michael was born on 30 September 1989 in Miami, Florida. He received his high school education from Miami South Ridge High School.
Before his career as a model and acting in America, Next Top Model, Christopher Michael has worked with Promotions Company Varsity LG. Michael was also seen in the music video, Feels Like Home by Hosie reals and Spada.
One of the recognizable Love & Hip Hop: Miami cast member, Christopher Michael has earned a tremendous amount of income from his works as party host and model. Nonetheless, his net worth sits at $1 million.
Examing his personal life, currently, Christopher Michael is dating hip hop singer, Liz Cifuentes since 2015. Besides this, there is no further information about his past relationships and affairs.
Gunplay Net Worth
Richard Morales Jr, who also goes by the stage name, Gunplay was born on 18 July 1979 in Elpaso, Texas, USA. His mother is Jamaican while his father hails from Puerto Rico.
Even though his salary has never been made open by Love & Hip Hop: Miami, however, LHHM, Gunplay has earned a net worth of $1 million, which he gathered from his profession as a rapper. Similarly, his riches are expected to increase in the upcoming years.
Gunplay began his career as a rapper by started as a member of Rick Ross's hip hop crew, Triple C's, in the year 1997. Later on, he appeared on Lil Wayne's video, Deeper than Rap, in 2009.
After three years, he went to releases his first mixtape, 601 & Snort. Furthermore, he also featured on Lil Wayne's song Beat the Shit in 2013. His album, Living Legend, also has such rapping figures like Yo Gotti, Rick Ross, and several other rapping sensations.
On his personal life, Gunplay has a son named Richard Morales III with an unnamed woman whom he got separated and divorced in 2008. Reports have come from many sources that he is currently dating fellow hip hop star Keyara Stone.
Jojo Zarur Net Worth
Joanna Zarur, aka Jojo Zarur, is a famous hairstylist and TV personality. The style icon was born on 15 November 1991 in Mexico City, Mexico. She graduated from the University of Alabama and began her career as a fashion stylist from her social media sites such as Twitter and Instagram.
Zarur is also the fashion stylist of top A-listed hip-hop clients, which includes Lil Wayne, Birdman, Rick Ross, and several more. Similarly, Jojo opened her boutique, shop known as Zarur's Boutique in Miami in August 2016. For this, she even got some severe backlash from his father, Jose Antonio Zarur, who threatened to cut her fund.
Moreover, she came into limelight when she appeared as a supporting cast member on the series, Love & Hip Hop: Miami in the first season. However, after only a season, Jojo became a central Love & Hip Hop: Miami cast member of the show.
On the other hand, Jojo Zarur's net worth is estimated to be $2 Million. She has earned a sum of money through her works in fashion designing. Similarly, she also receives a substantial income from the reality show, Love & Hip-Hop: Miami.
Likewise, she has an extensive car collection. Some of her car collection includes Tesla, BMV, Bentley, and Roll Royals. Similarly, Jojo Zarur's father, Jose Antonio Zarur's net worth, is $45 million, which he obtained from his business ventures. Also, he earns a salary of $10 million annually.
Moreover, the ultra-gorgeous Jojo is currently single. Yes, it is hard to believe that she is single eventhough she is full of beauty, charisma, and successful in her profession.
As of now, she seems to busy focusing on her career; hence, there is no rumor about her being involved in a relationship with any alleged boyfriends.
Love & Hip Hop: Miami Canceled?
Love & Hip Hop: Miami is not as hit as you would expect. Not just the Miami but the flagship New York-based Love & Hip Hop was also suffering the same fate. There were some undisclosed production delays in both of the sister series. It could have something to do with the low ratings. In recent seasons all 'Love & Hip Hop' franchises have suffered a loss in ratings.
LAHHM is particularly the most unpopular of the bunch. So is Love & Hip Hop: Miami canceled? No, after months of speculations that the show would be canceled, VH1 has announced that the show will be getting a new season.
Love & Hip Hop: Miami Renewed; Season 3 Updates
LHHMIA has indeed been renewed for a new season. The season 3 will stick to its tradition of premiering in January, 6 to be exact. The exact number of episodes and further details of the new season is still a mystery. What we do know is much of the original Love & Hip Hop Miami Cast will reprise appearing in season 3.
Caption: Love & Hip Hop Season 3 Preview
All except Jojo Zarur and Gunplay have been shooting for the show but the two cast members may still appear as recurring characters in the show. Jojo Zurur was one of the first to reveal the news of the new season so we doubt she would have done that if she was leaving the show.
Season 3 looks promising mainly due to the new faces that will be arriving. Of course, the headliner is Joseline Hernandez who is not coming as much as returning to LHHMIA franchise. It was announced recently on December 11 that she would be part of the Love & Hip Hop: Miami cast. Joining her will be other cast members like EmJay (Shay Johnson's brother) and KaMillion. Saucy Santana who was shot just a month earlier in a drive-by will also be a new cast member.
Caption: Joseline Hernandez coming to Love & Hip Hop: Miami
Love & Hip Hop Net Worth Table
| | | |
| --- | --- | --- |
| Love & Hip Hop: Miami Cast | Net worth | Age |
| Trina | $6 million | 44 |
| Trick Daddy | $500,000 | 46 |
| Bobby Lytes | $500,000 | 29 |
| Amara La Negra | $1.5 million | 29 |
| Christopher Michael | $1 million | 30 |
| Gunplay | $1 million | 40 |
| Jojo Zarur | $2 million | 28 |