Originally posted on January 5, 2020 @ 7:13 am
Salvage Dawgs is a popular show which started back on Nov 8, 2012. Salvage Dawgs is a show based on a company called Black Dog Salvage. The company bids on any architectural structure that is about to be demolished.
They salvage anything useful or of anything with historical or architectural significance from the condemned building. The whole crew of Black Dog Salvage is Salvage Dawgs cast. The show is about the company doing its job, tackling the problems faced while doing their job. The owners of the structure have an emotional attachment with the structure, and some parts are harder to salvage without damaging them or other components.
The owners of the company Robert Kulp and Mike Whiteside, have a keen eye for any architectural elements and historical artifacts. Black Dog Salvage started in 1999. Let us go a bit more into detail about Salvage Dawgs cast, bio, and net worth.
Robert Kulp Net Worth & Married Life
Referred to as the Top Dawg on the show is the co-owner of the business Black Dog Salvage. Robert Kulp is one of the people around whom the show moves. He is the inhouse "architecturologist" of Black Dog Salvage.
He and Mike Whiteside founded the company in 1999. The first building they salvaged was from Roanoak, VA. Robert was born and raised in Roanoak, Virginia.
Previous to being the co-owner of the company Black Dog Salvage he used to be a Naval Commander. But later, he enrolled at Virginia Technical University to pursue his tertiary education opting out of service as a naval commander. He graduated from the university with a degree in building and construction.
He has been on the show from the beginning and has been with the company since its founding days. Before the company was picked up as a TV show, they mostly sold the things they made on eBay. So, it is fair to assume that he has a nice amount of net worth, which comes from the company revenue and the show Salvage Dawgs.
Robert is a married man who has three beautiful daughters. His wife's' name is Patti, and one of his daughters' names is Caroline, another is Ernie, but the third one is unknown. He celebrates his birthday on August 20, but his birth year is unknown. He is a very private person.
Mike Whiteside Net Worth, Wife & Son
Mike Whiteside is the other co-owner of the company Black Dog Salvage. Often referred to as Big Dawg in the show. He is a person of an optimistic nature and can-do attitude. Mike has completed every task he has set out for, but he knows his limits.
Before co-owning the company with Robert Kulp, Mike has served in the US Navy as a parachute rigger. He has also worked as a professional sailor for 15 years and left the job with the title of a captain with a coast guard issued License. Mike left his days in the seas after he met his wife, Susie Favris. Mark was originally from North Carolina, born and raised, but he settled in Roanoak, where his wife had a furniture shop.
Mark currently has an estimated net worth of $1 million, which he has accumulated throughout his years in the navy, as a sailor and finally as the founder of the business Black Dog Salvage and as a Salvage Dawgs cast. He has been with the company since its founding.
Susie Favris thought of the name, Black Dog Salvage. She got the motivation for the name from seeing their black Labrador.
Robert has a son, Tay Whitefield, who we can see in the show along with his father and a daughter Grace Whiteside who is studying art at the Virginia commonwealth university. She is a glassblower, according to her brother Tay.
Grayson Goldsmith Net Worth, Husband & Gay Rumors
Born on 13th November 1988, Grayson Goldsmith is currently 31 years of age. She joined the Black Dog Salvage while it was still in the early stage of becoming the reality TV show, Salvage Dawg. She was born and raised in Roanoak, VA. Greyson joined the company after graduating from Appalachian State University in 2011.
Greyson had enrolled in 2007 to study geology but later switched to sustainable development in 2009. She traveled for some time before joining Black Dog Salvage in 2012. When she had joined, the show had already started. Fans of the show loved her as they got to see a new cast grow from a confused and scared girl to a self-reliant and strong girl.
Grayson was very good at hiding her personal information, especially regarding her dating life. Peoples assumes she had a thing for her co-cast, Tay Whiteside. Even Grayson's sexuality was in question as peoples were wondering if she was straight or not. She denied any relation with her co-cast on the show Salvage Dawg while going live on Facebook.
But on 15th June 2019, any questions about her dating life and sexuality were answered as she got married to Garret Hollingsworth.
She has been on the show from the very beginning of it, but no information about her economic status has surfaced. Her current networth is currently under review. She thinks of the whole Salvage Dawgs cast as her family, and it has grown from 11 to 31 peoples since 2013.
Greyson is a dog lover and owns a giant hound dog named Joey. She loves hiking, biking, and paddleboarding in her free time, and She is a Scorpio.
Tay Whiteside Net Worth & Bio
Currently 23 years of age, Tay Whiteside was born in 1996. Tay was born and raised in Roanoak, VA. He is a calm and collected guy on the show and a fun guy overall.
He respects others' thinking and keeps an eye out for the future. Tay believes that everyone is correct at some point, and everyone is wrong at some point. He likes the way Robert approaches on some projects, and for others, he might like his Dad's approach or have a different one altogether.
Tay is currently single according to a Facebook video where he replied to a fan. He has two dogs, and he loves them dearly enough to refer to them as his child. His dogs, Stella and Molly May, appear on his Facebook video from time to time. They are both rescues.
He has been on the show Salvage Dawgs as a cast for quite some time, since 2013. But his earnings from the show or from the business itself haven't been made public. His net worth is still under review.
Ted Ayers Net Worth, Married Life & Daughter
Ted Ayers is one of the early members of the Black Dog Salvage from before it became a show. Even after they became a show, ted has become an integral part of the show as well. He is the comedic relief in the show and is also a fun guy in real life.
Ted likes interacting with his fans; he replies to any questions or posts made on his fan page on Facebook. He is pretty vocal about not supporting Trump, according to his Twitter posts. Ted has an outgoing personality and enjoys having a fun time, and he is also a basketball enthusiast.
Ted has a daughter and a son. His daughter Abby Ayers was engaged in December 2018 to Jess Taylor. He loves and cherishes them both according to his Facebook post. Ted has married, but it is not clear if he is still married or divorced.
Ted is a pretty private person, so nothing much about his personal life is known or his economic status. He probably has a good income from the business and as Salvage Dawgs cast, but his net worth is still under review.
Ted is deathly allergic to Bee.
Koiner Kulp Thomas Net Worth
She is Robert Kulp's big sister and has been a part of the crew since the early days on Franklin. But she has appeared on the show Salvage Dawgs as a cast only recently. She has been on 15 episodes in 2017 and hasn't been on the show since or before. She works off-camera with and for the crew.
Her net worth is under review.
Susan Hudson
Susan Hudson is a designer and an art teacher. As an artist, she is exceptional. Susan appeared on the show for 13 episodes in 2017 and hasn't been on the show since or before. She works off-camera for the crew.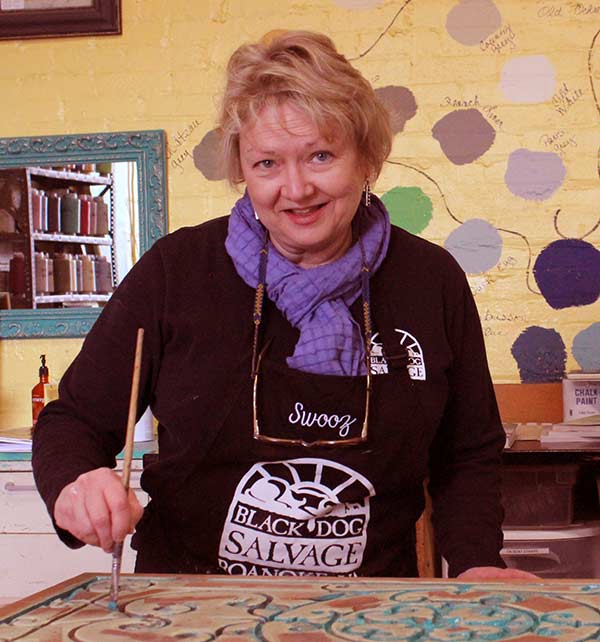 Susan is the exclusive designer and in-charge of colors in Black Dog Salvage products.
Her net worth is under review.
Salvage Dawgs New Season
We hope you have been following salvage Dawgs just as intensively as us. Still, you do not have the precious time to keep searching for information on the new season of Salvage Dawgs, do you? So let us take care of that research for you. Since the latest season of Salvage Dawgs so far, season 11 is just about to end, we are afraid even we have no information about whether it will be renewed or canceled.
Caption: Salvage Dawgs new season 11 premiere date and details 
However, since the series released two seasons in the same year, we think it's a big tell-tell sign on the show's success. So we doubt it will be canceled, but it hasn't been officially renewed as of yet. Be sure to return to us for more info in the future.