Originally posted on January 21, 2020 @ 2:57 pm
Mallory Gulley is a famous television personality who appears in a television show named Street Outlaws on the Discovery Channel. Also known as 'money girl,' the petite blonde can be often seen awarding the race winners with their earnings in this series.
We already have the idea that she is not just a pretty face but more on the Street Outlaws: Memphis. She is an aspiring street racer who takes part in this sport with her purple '64 Chevrolet.
So, here are some fantastic facts about Street Outlaw's Mallory Gulley, and her earnings. Also, learn more about her dating life, relationship, and many more.
Who Is Mallory Gulley? Her Passion For Street Race From Young Age
Mallory Gulley was born on the 31st of December, 1996. She grew up in Jonesboro, Arkansas. According to her bio, Mallory's zodiac sign is Capricorn.
She belongs to a white ethnic culture, and Gulley holds an American nationality. She was born to Kenneth Gulley (father) and Cari Gulley (mother)
She has a sister named Natalie Gulley while they grew up together in Jonesboro. Talking about her education, she went to Arkansas State University.
However, you may be wondering how she got into cars. Well, she is an aspiring street racer, all thanks to her parent's family business related to vehicles. Mallory started her professional career at a very young age.
Her father, Kenneth, operates Gulley Bail Bonds and owns KEG Towing as well. The father and daughter used to watch street races together. She even got involved with JJ Da Boss, who is a big name in this racing industry.
Mallory Gulley Fame With Street Outlaws: Meet The Women Of Memphis
Memphis is undoubtedly a place for some badass women in this racing industry. Also, we can see the best of the best street racers in the Street Outlaws.
Mallory Gulley is definitely among the top contenders to bring it home in the racing games. She is also known as 'Money Girl,' who is having her feet wet behind the steering wheels.
Besides, she is an aspiring racer at the age of 22. She was passionate about this sport, all thanks to JJ, with whom she learned to drive this year. Also, the credit for her success goes to Kenneth Gulley.
Mallory had her debut game against Ole' Heavy on her first-ever race in Street Outlaws. However, it wasn't all win for Gulley, who did pretty well for her first racing event.
But she is hungry to get back on the tracks and prove her worth as the fastest female driver in this sport. Of course, she has a fierce competition going up against Precious Cooper and Trisha Day.
In October of 2018, Mallory won a race in the MSO finals against CARP. She earned a considerable amount of $10,000 for her victory.
Similarly, she also works as an employee on her parent's business endeavors, Gulley Bail Bonds and KEG towing. The family has a website named kegmotosports.com, where they buy and sell accessories and apparel of racing sports cars.
Is Mallory Gulley related to JJ Da Boss?
Mallory Gulley and JJ Da Boss have known each other for a long time. JJ was there when she sat on the side of the track to see street races. Of course, we can refer to JJ as an inspiration for Gulley as well.
Kenneth, along with JJ, was supporting Mallory in the early days of her racing career. JJ has made a big name of himself in Street Outlaws.
Caption: JJ Da Boss featuring Mallory's race
Mallory Gulley And The Ugly Duckling
Keeping her racing gigs aside, she takes part in the races with her purple '64 Chevrolet, which is famous with a name, Ugly Duckling.
Mallory follows Chelsea Day, a fellow female racer, as her inspiration on the race track.
How Much Does Mallory Gulley Make From Street Outlaws?
Obviously, her nickname 'Money Girl' says all about her earnings from her outstanding career. She has a hefty earning from Street Outlaws, and her salary keeps on growing even more.
She earns $45,000 annually from her racing profession. Meanwhile, she makes a massive amount of $36,000 as a bail agent for Gulley Bail Bonds.
Overall, her net worth is a huge amount of $200,000 as of 2020. Also, she earns a significant amount of money when she takes it home in her street races.
Talking about her fortunes, Mallory owns a '64 Chevrolet. Also, she has other luxurious cars like the Chevrolet Corvette ZO6, which has a hefty price of $79, 000.
Is Mallory Gulley Single Or Dating?
Mallory Gulley was in a relationship with Cullan Weaver. The couple dated for a while after breaking up soon after. She even posted a picture of him and said that he was the cutest guy she could ever have.
Cullan also replied to the post saying, "I love you too."
Mallory had made it clear that she is not dating anyone else at the moment. Currently, she is still single and isn't involved in any relationship affairs.
However, she has a dog named Chet, where her heart now belongs. Gulley does not hesitate to share the moments with her cute little friend.
She posted a message on Instagram saying, "Happy Birthday to my biggest blessing. I love you more than I ever thought I could!"
Mallory Gulley's Father, Kenneth Gulley Was A Street Racer For 25 Years
Mallory Gulley's father, Kenneth Gulley, had made a name for himself in the car business for a very long time. That's the only reason why the name Gulley sounds so familiar.
Kenneth is the owner of a company named Gulley Garage. He is often featured on Street Outlaws: Memphis. We can say he's like a gearhead who has a good experience when it comes to cars.
Kenneth also grew up in a racing environment. He had a long career in racing for almost 25 years. The man devoted his life to make the fastest toys and cars in his life.
Mallory's father is known to have 2003 Chevy s10, which is also known as Bounty Hunter. Mallory is following the footsteps of her racing dad.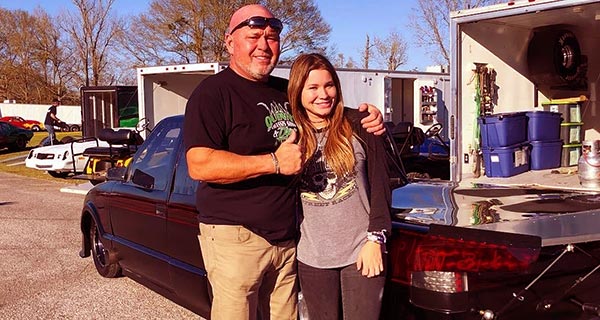 Mallory Gulley's Dad Accused In Street Outlaws Lawsuit
Kenneth Gulley and JJ da Boss were accused in a lawsuit back in September of 2018. Genny Larkin and Chad sued the Discover Channel, saying that Mallory's dad and JJ assaulted them during the shooting.
The lawsuit stated that Kenneth and Defendant Day was running behind Larkin, and they threw punches at the man.
"As Larkin went down, he was on his back with his face exposed. The Bounty Hunter and Day continued the assault, punching Larkin in the face repeatedly and kicking him in the ribs."
Caption: Street Outlaws Filming Assualt