Originally posted on July 26, 2020 @ 1:36 pm
Viewers of audiences can't get enough of reality television series bearded men in the wilderness. We are talking none other than History Channel's, Mountain Men. The show follows the lives of people who chose the nature over a luxurious lifestyle. They live off the land and goes to find food and shelters outdoors.
Similarly, Kyle Bell and his son, Ben Bell, appeared in season 3 of Mountain Men but didn't continue their journey after season seven, but why? Fans want to know the cause behind it. How old is Kyle Bell when he featured on the Mountain Men?
Here's what everything we know about the Mountain Men star, Kyle Bell.
Kyle Bell is a Game Hunter
Now, Kyle Bell is a game hunter and also an outfitter by trade. Kyle Bell spent most of his youth on the rodeo circuit, wrangling bulls and bucking's broncos. Kyle lives in New Mexico's Cimarron Valley. In addition, Kyle is the owner of the Folsom Outfitters, a company of guiding hunters located in Idaho, Colorado.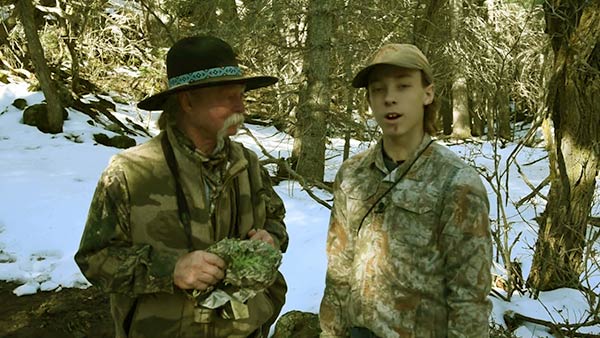 His company provides the hunting expeditions for deers, bears, mule, and more. Also, they have their own bunkhouse where their customers can lodge. Besides all that, it was the wild that had always called to him. Since an early age, he loves going outdoors and even went on an adventurous trip.
Kyle Bell on Mountain Men
Kyle Bell and his son, Ben Bell, made their debut in season three of Mountain Men in 2014. The father-son duo first featured an episode of 'Winter's Warth' in season three. The seasons opened as a polar vortex sweeps across America into a brutal early winter. At the beginning of season three, Kyle was teaching his son the dying ways of the mountain man lifestyle.
Kyle teaching his son, Ben, how to make fire
Kyle and Ben Nell appeared in a total of 34 episodes. The father-son duo last featured in season 5 'Winter Vs. Man.' In the season, all the mountain men were locked in an endless battle against the brutal winter. At the time, his son was ten years old.
Why Did Kyle Bell and His Son Leave the Mountain Men?
After season 5, Kyle and Ben quietly exited the hit History Channel's show, Mountain Men, from which they became celebrities. Kyle and Ben didn't appear in season 6 after the fierce battle with winter in season five.
At the time, Ben decided to pursue other adventures and supposed to start his blog. In 2016, Kyle's son uploaded a video on his YouTube Channel and also explained about his new experiences.
Watch the video of Ben below.
In an interview with SLC Peppercorn, Kyle said that they created a new website called 'Survival Sense.' He added it would teach people how to build a fire out in the woods, a shelter.
Fans were disappointed after Kyle and Ben left the show. However, the fans pf the show was hoping to return Kyle and Ben the new season of Mountain Men. But sadly, they wouldn't come to the show. One of the followers tweeted on Mountain Men's post.
Thanks for being a fan of #MountainMen!

— Mountain Men (@MountainMen) May 22, 2016
Kyle Bell Married to LeVonne Bell
A former reality star is a married man. Kyle Bell has been married to his love of life, LeVonne Bell for more than a decade. However, Kyle hasn't revealed the date and wedding venue on the show.
He and LeVonne both work together in their hunting company, Folsom Outfitters. As you already know, the couple has a son named Ben Bell. Ben was born in 2006, making him 14 years of age now. At a young age, Ben learn many things from his father, such as how to build a fire, hunt, and search food in an off the grid.
How Much is Kyle Bell's Net Worth?
So far, how rich is Kyle Bell? Besides the television, Kyle and his wife run a successful hunting guide service. Unlike other cast members of Mountain Men, Kyle earns a good amount of money. Kyle Bell has a whopping net worth $3 million.
Mr. Bell lives with his wife and son in New Mexico. Other than that, the reality TV star bought 45,000 acres of land in Cimarron Valley.
Social Media Presence
Talking about Kyle Bell's social appearance, he is not active on any of them. Though you could subscribe, his son, Ben's YouTube Channel, where he uploads the adventurous videos.