Originally posted on February 15, 2020 @ 6:59 am
We have had the honor of time and again writing about how the internet and particularly social media has made it possible for regular people to have their shot at fame. The newest addition to the 'Love and Hip Hop: Miami' cast, Jessie Woo, also is the latest member to become a reality star and more after her grind from social media. Learn Jessie Woo's net worth now, along with her dating life and boyfriend.
All of her wikipedia and biography information in facts that will give you a better understanding of Jessie Woo including her net worth, her parents, dating history, and more. So, what are we waiting for? Let's Begin.
Jessie Woo's Instagram & YouTube Background
Jessie Woo, like most of us, had dreams of being an overall entertainer, not just an actor but a comedian and a singer. Like most of us, as she grew up, he began to see the harsh reality of life. She had almost completely forgotten her childhood dreams when as an insult to injury, she would even be fired from her job in New York.
Jessie Woo then would spend her days lounging in her aunt's couch in Brooklyn. She got another job at a corporate office, but even that gig wouldn't last long. Thankfully, she decided to make the most of her off time by turning into social media. Wither her iPhone in hand; she started creating funny skits and covers/remixed songs.
Caption: Jessie Woo started remaking songs and doing comedy skits
Suddenly, hundreds of people liked her content, which turned to thousands, which turned to millions. Her short song remakes of Alicia Keys' song, 'If I Ain't Got You!!!" and "Dear Haitian Crush," became viral, bringing her to public knowledge. The alter ego character, Cadouskha Jean-Francois, has been a fan favorite and star of a lot of her videos.
https://www.instagram.com/p/BXIX_M0gwrr/?utm_source=ig_embed
Caption: Jessie Woo's alter ego Cadouskha Jean-Francois in her comedy skits
Her social media standings will help boost her career in TV as an actress, host, and personality. So far, she has over 47.2K subscribers on her YouTube channel, where now she more frequently publishes her original songs in her current focus on being a successful singer. You can also follow her 683k followers on Instagram, where she has over followers and in Twitter, where she has over 17.1k followers.
Jessie Woo Feud with Amara Le Negara & Jojo
In reality shows, newbies are under pressure. You need to give a strong first impression if you want to stick in this business. So, we can say Jessie Woo is going to stay for some time considering how she came out swinging from the start against co-stars Amara Le Negara and her best friend, Jojo.
The reason behind their feud was Amara's management team was in talks of also managing Jessie. So, their path would cross a lot. One day Amara happen to come across Jessie Woo's boyfriend of that time. So, in conversation, she would ask him the question, "Whether you would forgive your spouse for cheating?" or "Would you ever cheat on your spouse?"
Caption: Amara Le Negara and Jessie Woo explain their fight
The question may have been misinterpreted as Amara making a move that Jessie had taken to heart. So, when she finally caught up to Amara a year later in 'Love and Hip Hop: Miami,' she just erupted. After a heated verbal argument, Jessie would even throw an entire bottle of drink, which only nearly missed Amara Le Negara.
Considering Amara's past of trying to seduce her co-stars' boyfriend, we cannot say that she is the one telling the truth. However, resolving to violence for an incident of 1 year ago was not commendable by Jessie Woo.
Feud with Jojo
The fight would continue through the season, with Jessie even threatening Amara's mother. Amara's friend Jojo would also have her own bout with the 29-year-old after a similar altercation involving Jojo's name and her mother. The battle was not caught on camera, but some people say Jojo threw something at Jessie, which Jessie retaliated by taking her to the ground.
Caption: Jessie Woo on her feud with Amara and Jojo
Other witness stories tell an entirely different tale. According to them, Jessie was the one who threw something at Jojo in response to which Jojo was the one who not only took Jessie to the ground but knocked her out.
Jessie Woo's Net Worth
We have already given you details on Jessie Woo's early career as a social media star. After her success in social media, she got a boost in her TV career as well. You might have seen her host a couple of BET shows and events like 'Set Trippin,' 'BET Breaks,' and 'Black to Life.' Now, she is gathering even more attention, stardom, and of course, salary as one of the reality stars of LHHM.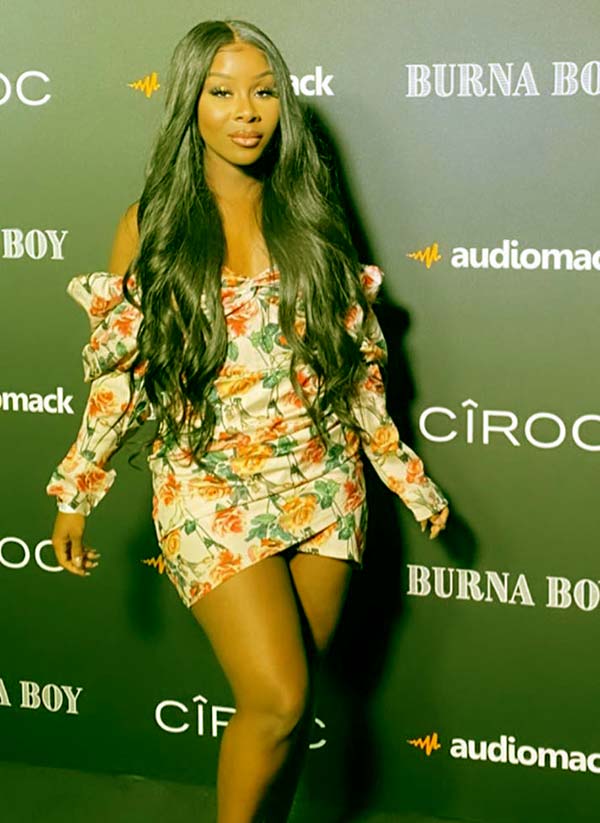 She would surely use Love and Hip Hop: Miami as a stepping stone to grow her net worth and career more. It is already working as she will be a co-host Power Star Live, a new talk show on Twitter. It is no surprise for us to report that Jessie Woo's net worth is around $1 million. He charges a salary of around $10,000 per episode, which shows how she is able to maintain such a large net worth.
Jessie Woo's Dating Life and Boyfriend
We already told you about Amara and Jessie's feud being the cause of Jessie's ex-boyfriend. However, we have no name or other details of the said former boyfriend. This would not be half that infuriating if Amara did not have such a private dating life, which we know nothing of. Well, on this is for certain, Jessie Woo is through dating Men with children.
STOP DATING MENZ WITH CHIRREN!#SistasOnBET pic.twitter.com/11rXLj1OVs

— Jessica Fyre 💫 (@TheJessieWoo) October 24, 2019
Her only recent introduction to fame may also be the reason we don't have much information on Jessie Woo's dating life. We even searched her social media profiles until years back to no avail of finding a boyfriend.
However, Jessie Woo does seem to have an active dating life, which has yet to be fruitful to her. We found a series of Tweets where she is venting and complaining about her dating experience. These three, in particular, is where she shares her dating experience through different regions like Atlanta and New York.
Jessie Woo is a Rape Survivor
You would never expect the funny and, at times, fiery Jessie Woo to have such a horrific dark past. When she got a chance to have a heart-to-heart with co-star, Trina, she was expressing concerns about how her producers were delaying the release of her music. As soon as Trina expressed to her the male-dominated industry to be one of the reasons, it struck a nerve for Jessie.
She immediately gets emotional reminiscing about her early career when a producer invited her and one of her friends to a pool party. Despite her hesitance, she and her friend went to the party where they were the only two women. Then the two were shown to a room filled with men. After this point, Jessie could barely get words out as she was crying her eyes out.
Caption: Jessie Woo opens up about being a rape survivor
She still was able to tell of how her friend left her alone. Jessie never said what happened after, but we understood the grave crime that had been done to her. The LHHM star shared afterward,
"As a rape victim, you feel like… you're powerless; you feel like… you're' a loser, you feel like you don't matter." She continued, "Sharing my story is not to share it to… make anyone feel like they're a victim. It's to make people out there know you are a victor; you are a survivor." As her voice broke, she screamed one more time, "You are a survivor."
She was also one of a few people interviewed by CNN, who were all rape survivors. In the interview, she said her brother Jeremy was the reason she made it through as she was seriously considering suicide.
https://www.instagram.com/p/BtwfG1fl0Aw/
Jessie Woo's Parent is Haitian Christians
While Jessie Woo's bio and early life are still incomplete, we do know that she was born on July 6, 1990, in Montreal, Quebec. She was born as Jessica Juste to her parents of Haitian nationality and Christian faith residing in Canada. Her father was a preacher at a church, and her mother was an evangelist and choir director. She grew up singing in church, which sparked her interest in music.
After her father and mother got a divorce, she lived with her mother and the rest of her younger siblings as they moved to Miami, Florida. Jessica Woo was teased in grade school for her Haitian ethnicity for being "poor" and "dirty." She graduated from Florida International University and tried to pursue her dreams of being a musician but failed for the lack of resources and "exotic looks."
So, she gave up on it for a while, moving to New York City with just $700 to her name. You know the misfortunes that struck her there, as explained in the start. All is well that ends well as that got her into social media, and that got her on TV, and now she has a $1 million net worth. We hope Jesse achieves even further success in her life.