Originally posted on March 15, 2020 @ 5:58 am
How often have you seen people changing their profession and being really good at it? Well, some people have successfully adapted to their career swaps while some have suffered in vain. When it comes to hunting alligators, Jay Paul Molinere is at the top of the list.
He is a popular television personality from the History Channel's Swamp People. Besides, Jay is also a boxing champion having multiple awards to himself.
From his history as a professional boxer to his adventures in the swamps as a hunter, here are some fascinating things about Paul Molinere's married life, accident, and lawsuits. Also, find out about his biography, children, net worth, and many more.
Caption: Jay Paul Molinere showing off his fighting skills
Who is Jay Paul Molinere? Know His Family and Biography
Jay Paul Molinere AKA Roland Molinere was born on August 20, 1988. He grew up in Grand Bois, Louisiana. As of his bio, Paul's zodiac sign is Leo. He belongs to white ethnic culture having an American nationality. He was born to R.J. Molinere (father) and Stacey Molinere (mother). Jay has two sisters, and both of them are nurses. However, their names are still under wraps.
Talking about his early life and education, he went to South Terrebonne High School. Molinere played as a defensive back for a total of four seasons. He graduated in 2006 and moved on to Fletcher Technical Community College to pursue his degree in Anesthesiology.
Later, Jay graduated from college in 2011, and as a matter of fact, he made his debut in Swamp People, the same year. He was quite fond of boxing from the age of six. Paul would spend most of his time in the backyard while practicing to be a professional boxer.
Jay Paul Molinere Accident & Injury
Jay Paul Molinere was an aspiring talent from his early days, but he had to deal with his unfortunate fate at the age of 10. He got in an unfortunate accident, which left him severely injured for months.
The young boxer was on a family camping tour when a malfunctioned jet ski crashed right on top of him. He was gravely injured by this incident, where he had an 8-inch fracture in his skull. Jay was also in a coma for over three days, and the doctors were not even sure if Paul could talk again.
However, after months of therapy sessions and extensive recovery, he was able to talk again though it took him a while to be back normal.
Jay Paul Molinere from Swamp People: Meet his Father, R.J. Molinere
Jay Paul Molinere made his debut in Swamp People back in 2011. He was featured in the season 2 of the series, and since then, he has become a regular for over 70 episodes starting from 2011 to 2014.
He grew up in the swamps of Louisiana along with his father, R.J. Molinere. Jay learned fishing, crabbing, shrimping, and gator hunting from his father in a very young age. R.J. is also a cast of Swamp People, where she features alongside Jay Paul as his partner.
The family has passed down the trait of hunting from many generations before. RJ is an outstanding hunter himself who learned from his mother and chose Jay to carry on the family trait from the age of three.
Hunting alligators is not a small thing. You have to risk your life often while tracking and capturing these massive beasts. However, the father and son duo have managed to deal with these creatures at ease. Their partnership goes back to over 20 long years, which is why they are the most dynamic duo that the show has to offer.
Jay Molinere has done a good thing following the footsteps of his father, and of course, R.J. is more than proud of his son.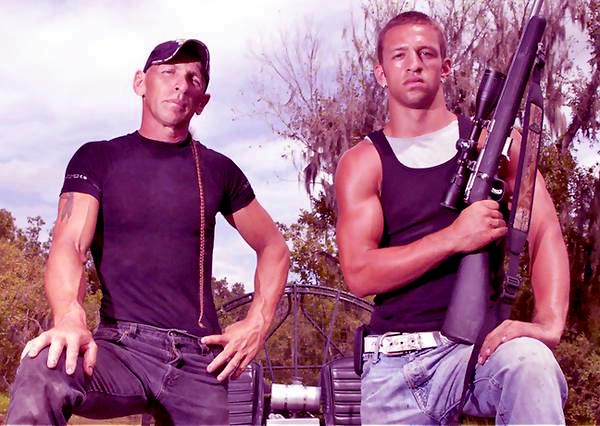 Jay Paul Molinere MMA Records and Boxing Career
R.J. Molinere is a man of many talents. From hunting alligators to being a two-time arm wrestler champion, R.J. has done it all and seen it all in his life. Besides being a mentor to his son, he also taught the athletic aspects to Jay from the age of six.
He inspired Paul to follow his passion in boxing and taught him the basics of sports. Later, Jay Molinere explored his passion in mixed-martial arts. The MMA fighter has over 30 fights in his overall career as an amateur, among which he won several of them.
In 2008, he won Gulf Coast Boxing Championship under 152 pounds weight class. The following year, Jay won the Golden Gloves Division Championship. Similarly, in 2010, Paul earned a competition in Colombus, Ohio, named Arnold Sports Festival Championship. He was a gold medalist at the sports event.
He made quite the name for himself as some big names hosted the sports festival, which includes Arnold Schwarzenegger and the former governor of California. Molinere is also an accomplished MMA fighter and a regional boxing champion.
Caption: Jay Paul Molinere MMA fight
Jay Paul Molinere Married To Ashleigh Price Molinere
Jay Paul Molinere has an outstanding physique and personality, making him fondly known among the young ladies. Hate to break it to you ladies, but he is a married man. He tied the knots with his long-term girlfriend, Ashleigh Price Molinere.
The two never had a wedding, but despite the fact, they are married for over six long years now. The couple has a total of three children. They had their first baby boy on April 14, 2009, and they named him, Jayden Molinere.
After almost four years, Jay and Ashleigh had their second baby on July 29, 2013, as a daughter named Aniyah Nicole Molinere. Also, the two had their third child as a daughter. However, the details about their third child are still under wraps.
https://www.instagram.com/p/B7UXd-Dg3Mw/?igshid=19u0mcur3i1c2
Caption: Jay Paul and his two adorable daughters
How much does Jay Paul Molinere make from Swamp People? His Net Worth
Jay Paul Molinere and his dad, R.J. Molinere, have gathered a massive fortune over the years. The dynamic duo is seen hunting gators in Swamp People every year on the hunting seasons, which lasts for a total of thirty days. Some of you might argue that it's a short period, but the casts earn an impressive amount of money in this time frame. Being a boxing champion and an MMA fighter adds up to his fortune even more.
Jay's net worth is an outstanding figure of $2 million as of 2020, while his dad, R.J.'s net worth, is estimated to be around $500,000. The primary source of income includes their hunting profession, business endeavors, boxing career, and Swamp People.
https://www.facebook.com/rjandjaypaul/photos/a.209254392424021/1133566239992827/?type=3&theater
Jay Paul Molinere arrested on battery charges
Stars of Swamp People, Jay Paul Molinere, and R.J. Molinere were arrested in 2013 on battery charges. The lawsuit accused them of having a fierce fight at a store. The authorities issued a warrant for their arrest.
Based on the reports, the father and son duo allegedly attacked a man during their argument in the Louisiana highway. They used a beer bottle to attack the victim who suffered some severe injuries. Later, the two were released on a bail of $1,000.
Jay Paul Molinere social media updates
Jay Paul Molinere is available on Twitter who has over 50k followers. Also, check out his Facebook and Instagram.
https://www.instagram.com/p/B8C2gIgAVud/?igshid=gos49jnsg55g
https://www.instagram.com/p/B7wI-bfg1DJ/?igshid=ykeirdc781w8