Originally posted on March 20, 2020 @ 9:48 am
There are only a few reality show couples that survive the test of time. The ones that do are prominently this lovey-dovey couple who look like they were meant for each other. We might be fans of reality TV, but we are bigger fans of reality itself.
So, our favorite couples will always be people like Amanda Batula and Kyle Cooke from Summer House, who might have an imperfect relationship. Still, they are working their way to marriage. Even now, we can't be sure that they will be married as they are already bickering like husband and wife. This article will discuss not only their wedding updates and dating life but also Amanda Batula's net worth & bio.
https://www.instagram.com/p/B9w1xqOp–Q/
Amanda Batula's Dating Life with Boyfriend Kyle Cooke
Amanda Batula's dating life with Kyle Cooke after the two met in Season 1, and as fans, we knew it was only some time before they would start dating. Much to our surprise, their dating life did not end through season 2 and in season 3.
Kyle left not just his girlfriend, Amanda, spellbound but us to when in season 3, he decided to ask her hand in marriage. However, it has been a year since then, and they have still not married.
Caption: Amanda Batula and Kyle Cooke get engaged
Amanda Batula's Wedding Updates and Married Life
Amanda Batula and Kyle Cooke's wedding is still on despite people doubting their married life to be over before it began. The main reason their wedding was postponed was the loss of their wedding venue, which later revealed to be the venue, not agreeing to film their weddings on reality TV.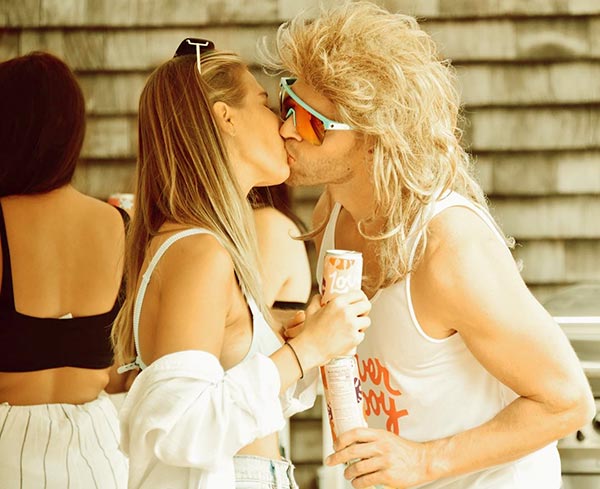 "I also want our wedding to be the wedding of our dreams and I need the time to make that happen. After months of looking, we found what we thought was the perfect venue. When it fell through, I couldn't just pick up where we left off because I felt like we exhausted all of our options. I felt defeated," Batula shared on the fallout.
However, the wedding venue was the least of Batula and Cooke's problems as their relationship was taking a hit. As Batula went to live with her boyfriend-turned-fiancée, she got a taste of how their married life would be like, and she did not like what she tasted.
While Amanda was hoping that living together after their engagement will be full of romance and intimacy, it couldn't have been any further from her expectations.
"It sounds ridiculous but when you're at a wedding, you go away you stay at a hotel. When we went to bed at 11 o'clock, I just kinda assumed we just go back to our room and have sex."

Batula continued, "Like I know we're exhausted but we're making no effort to be intimate to have special moments," he says. "I feel like an old married couple and we don't even have a venue for our wedding."
Friends and Fan Concerns for Amanda Batula's Married Life
Many fans have shown concerns to Amanda Batula in her post, sharing the fall out on her wedding venue. One comment, in particular, read that she should perhaps take the wedding problems as "a red flag from the universe."
It seems the commenter was well aware of Batula was feeling like she was living with her father with Cooke, who was a little demanding in aspects like the cleanliness of their house. Of course, we cannot forget about Kyle's adultery before their engagement in season 3 premiere.
He made the shocking revelation that a guy's trip, a year before then went above his head. He clacked out, and the next thing he remembers was waking up next to a girl in his bed.
Even Amanda's co-stars and friends, Hannah Berner and Paige DeSorbo, also did not shy away from expressing their views on Cooke and Batula's relationship. They went even so far as to say Amanda Batula was "trapped" in the relationship.
When Kyle came to know of this, he was not very happy with them. He responded to them via Twitter with the post below;
https://twitter.com/imkylecooke/status/1240448666474811392
Amanda Batula getting Married Regardless
Despite what friends, fans, and even the new season 4 trailer of Summer House may say, Amanda Batula and fiancé Kyle Cooke still somehow are making their relationship works. Marriages are not easy for many people, but if you follow either of them on social media, you would beg to differ.
They look like they are fully ready to get married, and they already have a new wedding venue and a due date, which is sometime in September 2020.
Amanda Batula's Net Worth & Bio
Amanda Batula was born in July 25, 1991, in New Jersey to parents Frank and Donna Batula. She has one younger sibling, brother by the name of Frank Jr. She is a graduate in a Bachelor of Fine Arts in Communication Design from the University of Connecticut.
In college, Amanda was the graphics designer and graphics manager for the University's paper 'The Daily Campus.' She then was an intern at the 'Rent the Runway' as a coordinator and stylist and then as a senior designer at the L'Occitane en Provence in NY city. She and her fiancé also have a business together by the name of FENIX.
We obviously cannot forget, Amanda Batula's prominent career as a reality TV star of Bravo's 'Summer House.' With her salary from the show, Amanda Batula's net worth is around $1 million. Similarly, her fiancé, Kyle Cooke's net worth is approximately $1.1 million.