Originally posted on January 1, 2020 @ 8:23 am
This new year, everyone might be planning to do something new in their life. Similarly, Fox Channel has something great for TV favorite fans. Well, you might have already guess what we are going to talk about.
An upcoming multi-camera American television sitcom "Outmatched" will be air on Fox Channel. The creator and the executive producer of the show are both one-man, Lon Zimmet, who is also a successful writer. It follows the life of a couple in Atlantic City who are trying to raise four kids, and among them, three are certified geniuses.
Take a look to know more about the cast bio, net worth, and the premiere date of the show.
Maggie Lawson Net Worth & Boyfriend
Maggie Lawson plays as Cay, a caustic take-no-prisoners casino pit boss and wife Mike in th FOX's upcoming series "Outmatched." For parents, parenting is hard. They have to deal with the demands and egos of three high IQ children.
Born in Louisville, Kentucky, Maggie began her career in the big screen in 1996 while she was studying in high school. Maggie is famous for playing the role of Detective Juliet "Jules" O'Hara in the TV series 'Psych.
Her acting credits include The Story Of Us, The Ranch, Santa, two, and a Half Men Treehouse, among others. Also, you can see her in the second part of Psych, which will release in 2020.
The Psych actress was married to her 'Back in the Game' co-star Ben Koldyke on August 8, 2015. After two years, Lawson filed for divorce from Ben. However, the couple has n't announced caused by their separation yet. Previously, she dated he Psych co-star James Roday who played the role of Shawn Spencer from 2006 to 2013. Maggie Lawson has an estimated net worth $2 million, according to Celebrity Net Worth.
Jack Stanton Net Worth & Bio
Rising star Jack Stanton is in the film industry. He is notable for depicting the character of Ben Pemberton in Fox's popular sitcom 'The Mick.' Now, he plays as Marc, an introverted and quirky, in Fox's series "Outmatched" along with Maggie and Jason. In the series, Marc wants everyone to leave him alone so he can become the next Beethoven in peace.
Jack was born on April 24, 2008, United States, making his age 11. He starred in series, including Dan the Weatherman and Coop and Cami Ask the World. Also, he voiced the charactered of Chip in Walt Disney World's "Once Upon a Time." The net worth of Jack Stanton is yet to known.
Connor Kalopsis Net Worth & Bio
Connor Kalopsis is well known for portraying Ethan Sanderson on Fox series 'The Grinder.' Before moving on to the TV screen, he took several acting classes in Canada and Los Angeles. After landing to minor roles in many televisions, now, he is playing the main character as Brian, a 16 years old math whiz.
Brian thinks that he knows more about the world than Mike and Cay, even though he never actually been out of New Jersey.
Connor was born in Canada and went to school in Beijing. This actor makes a pretty good salary from his career. Now, he quite busy collecting th worth that surely increased his net worth in the near future.
Ashley Boettcher Net Worth & Bio
Award-winning actress Ashley Boettcher is mostly famous for her role as Mel Fuller in the Amazon series 'Gortimer Gibbon's Life on Normal Street.' She is also popular for portraying Dorothy Gale in Amazon's Award-winning show 'Lost In Oz.'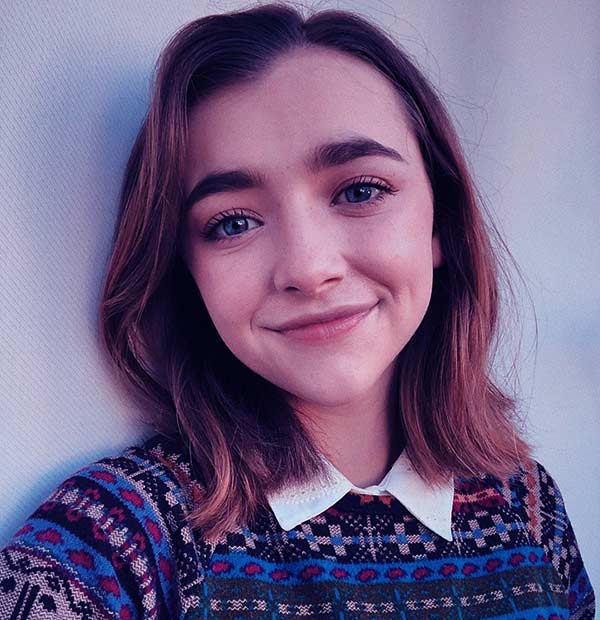 Ashley has been performing from age five and been a part of a variety of projects, from commercials to cartoons to feature films. She stars as Nicole, a fifteen years old sister in the upcoming series 'Outmatched.' Nicole i a deceptive and fiercely competitive language prodigy.
Some of the notable work includes Disney's Shake It Up, ABC's About A Boy, NBC's Las Vegas, Fox's Prison Break, CBS's Code lack, and Alien's in the Attic. For her roles, she has received numerous awards, including the Rising Star Award. Also, she featured in Variety's Youth Impact Report 2015.
Talking about her relationship status, Ashley is single and not dating any guy. Further, she is goods friends with her co-stars Sloane Morgan and Drew Justice. As per sources, she makes a net worth between $100,000-$1 million.
Oakley Bull Net Worth & Bio
Young actress Oakley Bull, 7, comes from a small town who has worked with some of Hollywood's biggest stars. Oakley started her career on the big screen from local commercials and quickly grabbed the attention of her cute and charming personality.
The child actress Bull is very famous for her appearance as Daisy Sheff in "Beautiful Boy" opposite Steve Carell and Timothee Chalamet. Now, Bull stars as eight years old, Leila, who is not a genius as her brothers and sister. She is only the child of Mike and Cay even remotely understand.
Additionally, she also features in the highly-anticipated Wonder Woman sequel, "Wonder Woman 1984." But the detail of her character has not given. The rising star has started her journey in Hollywood and making a good salary so she could financially help her parents.
Jason Biggs Net Worth, Wife & Married Life
American born actor Jason Biggs started acting at the age of five. Biggs gradually rose to stardom after he portrayed as Jim Levinstein in the American Pie Film Franchise. Then he started on Netflix's hit series "Orange Is the New Black," along with Taylor Schilling and Laura Prepon.
Currently, you can see him as Mike, a handyman, and uncultivated guy's guy and raising four kids with Cay in Fox's upcoming series "Outmatched." His notable works include Total Security, The Good Wife, Frasier, Mad Love, and Saving Silverman, and many more.
This actor also was the voice of Leonardo in the animated hit "Teenage Mutant Ninja Turtles." Jason has been married to actress Jenny Mollen since 1008, and they have a son named Sid. Biggs has an amassed net worth of $13 million.
Tisha Campbell Martin Net Worth & Married Wiki
Hailing from Oklahoma, Tisha is known for playing the lead character, Gina Waters-Payne, in Fox's sitcom 'Martin' form 1992 to 1997. She co-hosted the 2019 Soul Train Awards along with Tichina Arnold on November 17 in Las Vegas.
Now, she joins the cast, Jason and Maggie, as Rita on Fox's new series. The 51-year-old actor has been performing in the TV and films at the age of six. The busy actress is also filming in the series 'Be Someone,' which will premiere this year. The series is about an ex-high school football star who struggles to keep the hi family financially stable. She is playing the role of a cop in the series.
She starred in movies and series such as Sabrina, the Teenage Witch, Private Practice, Harley Quinn, Last Man Standing, Grey's Anatomy, and so on. Over the four decades of her career, Tisha earned a net worth of $15 million.
The Martin actress was married to ex-husband Duane Martin, film and TV actor from 1996 to 2018. They have two sons.
Finesse Mitchell Net Worth & Bio
American actor and stand-up comedian, Finesse Mitchell, was a cast member on Saturday Night Live from 200 to 2006. He made his first appearance on BET's Comic View in 1999. While living in New York City and Los Angeles, he appeared in The Late Late Show with Craig Kilborn and Late Night with Canon O'Brien.
Now, Finesse stars as Irwin, the best friend of Mike and co-worker in construction in Fox's new comedy series "Outmatched." Irwin is Rita's husband and a former jock. He has a recurring role in such TV series as A.N.T Farm and Roadies. Also, he played a small role in the film 'Barely Lethal.'
Like most celebrities, Mitchell married two times. He married ex-wife Jessica Santos in 2008 in Atlanta and got divorced in 2011. Later he began dating Adris DeBarge and eventually tied the nuptials in September 2013 and has a daughter. Finesse Mitchell's net worth is believed to be $1 million.
When will the Outmatched Premiere Date?
Outmatched series is produced by 20th Century Fox Television and Fox Entertainment. The series filmed the life of parents and their kids. It highlighted that every worst parent fears, they're ruining their kids when the two people welcomed a new member in their family, their world change and see things in different perspectives.
Caption: Outmatched Promotional Trailer
Well, to know more stories of this series you have to watch. It is scheduled to be air on Fox Channel on Thursday, January 23rd, 2020, at 8 pm.
Outmatched Net Worth Table
| | | |
| --- | --- | --- |
| Outmatched Cast | Net Worth | Active Year |
| Magie Lawson | $2 million | 1996-Present |
| Jack Stanton | N.A | 2017-Present |
| Conner Kalopsis | N/A | 2015-Present |
| Ashley Boettcher | $100,000-$1 million | 2005-Present |
| Oakley Bull | N/A | 2016-Present |
| Jason Biggs | $13 million | 1991-Present |
| Tisha Campbell Martin | $15 million | 1977-Present |
| Finesse Mitchell | $1 million | 1999-Present |