Originally posted on June 10, 2020 @ 1:46 pm
"Fresh Off the Boat" is a famous American sitcom that aired on the ABC network in 2015. Nahnatchka Khan is the creator behind the series, which now is in its season six and has received numerous accolades and nominations, including NAACP Image Award and Choice Television Award.
The sitcom is set in the '90s and centers on hip-hop teenager Eddie Huang and his family, who have adjusted to suburban American lifestyle after moving to Orlando from Chinatown.
Who is in it? Also, learn about the cast age, net worth, and relationships.
Randall Park Net Worth
American born actor Randall Park stars as Louis Huang, the patriarch family who moved to Orlando from Washington DC in the 1990s and adjusted to an American lifestyle. Louis is the father of three children and the husband of Jessica. He is a chef and restaurateur and owns a Western steakhouse restaurant in Orlando. For his role, Randall earned Critic Choice nomination for Best Actor in a Comedy Series in 2016.
Park pursued his bachelor's degree in English and creative writing and a master's degree in Asian American studies from UCLA. He made his debut as the leading role in 2003's short film "Dragon of Love," for which he won Best Short Film at the 2003 Hawaii International film Festival. In 2012, he gained massive popularity, playing Steve, in an episode of NBC's series 'The Office.'
Furthermore, he starred in the Marvel Cinematic Universe film 'Ant-Man and the Wasp' and the DC Extended Universe movie 'Aquaman' as Dr. Stephen Shin. His other tv-series and movies include Veep, New Girl, Reno 911!, Snatched, Office Christmas Party, and many more.
Randall Park is married to an actress Jae Suh Park since 2008 and has a daughter. Currently, the family of three reside in the San Fernando Valley. Park acted not only on television and film but on the internet as well. Randall Park's net worth is approximately $1 million.
Constance Wu Net Worth
Constance Wu is well known for portraying the character of Jessica Huang in the ABC's series 'Fresh Off the Boat.' For her work, she received two nominations for TCA Awards and four Critic's Choice Television Awards for Best Actress in Comedy.
Native Virginia grew up performing in the local community theater. By age 16, she moved to New York to study the Lee Strasberg Theatre Institute. While she was in NY, she worked classical theatre and did supporting roles in several films, including Stephanie Daley and Year of the Fish.
After moving to Los Angeles from NY, Constance was cast in Sundance Feature film, 'The Sound of My Voice,' as well as appeared on web series East Siders. In 2014, she got her breakthrough role on ABC's 'Fresh Off the Boat' along with Randall Park.
Aside from television, she starred in Jon M. Chu's film 'Crazy Rich Asians,' which is based on the New York Times bestselling book by the same name. In 2019, she appeared alongside Jennifer Lopez in the movie 'Hustlers' which became hit at a box office. Wu's relationship status is probably single and not dating anyone else now.
According to Celebrity Net Worth, Constance Wu's net worth estimated is $6 million. Currently, the Hustlers actress lives in Los Angeles with her pet bunny, Lida Rose.
Hudson Yang Net Worth
The rising star Hudson Yang started his career in the acting field in less than 18 months old. Hudson was cast as the lead Eddie Huang in the Fresh Off the Boat. He is the oldest son of Louis and Jessica. Eddie is a die-hard fan of hip-hop and rap, as well as a great fan of basketball.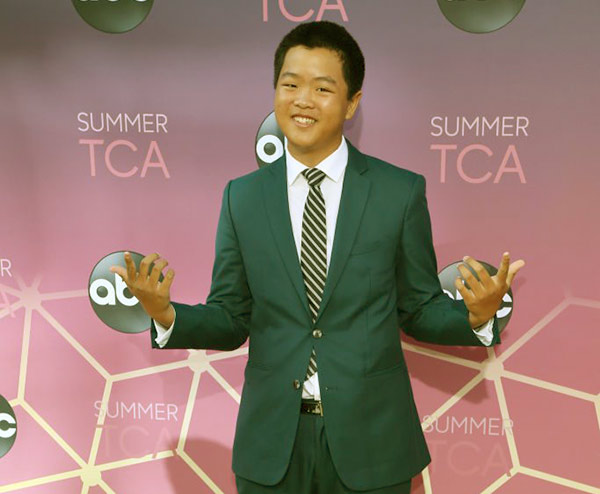 Yang first appeared in the independent feature 'the Sisterhood of Night' as Henry Huang in 2014 and then got his big break on the series Fresh Off the Boat. For his role, he earned multiple NAACP Image Awards nominations or Outstanding Performance.
Moreover, he guest-starred on Family Guy, Liv & Maddie, The Lion Guard, and Cyber case. When he's not on set, the 16 years old actor loves cooking, playing PUBG and Rainbow Six, and eating shocking large breakfasts. At a young age, Yang earns a pretty good fortune for himself. However, his net worth is not revealed.
Forrest Wheeler Net Worth
American TV actor Forrest Wheeler rose to stardom at the age of 11, portraying the character of Emergy on Fresh Off the Boat. In the series, he is the middle son of Louis and Jessica.
It's the last new episode until the #FreshOffTheBoat series finale! See you this Friday 8:30|7:30c. pic.twitter.com/Kk3GRGJYvT

— Forrest Wheeler (@wheeler_forrest) January 31, 2020
Forrest Wheeler began his acting career at the age of seven. He appeared as a Cambodian boy in the film 'The Incredible Burth Wonderstone.' His other acting roles include Community, New Girl, and Sofia the First. Also, he appeared on the web series Mortal Kombat: Legacy II and 'The Forrest Wheeler Adventures.'
In 2014, he competed in the US Open ISKA World Martial Arts Championship and won first place trophies. Forrest earns a decent amount of net worth from his acting as well as commercials. When not on set, Wheeler loves to participate in and advocate for charities benefiting children who need help like medial, education, and more.
Ian Chen Net Worth
Ian Chus stars as Evan Huang, the youngest son of Louis and Jessica. He skipped the fifth grade between season three and four and started middle school in the fourth season.
Ian was born on 7th September 2006, in Los Angeles. He booked her first role in the national commercial. After appearing in commercials, print, and television shows, he landed the main character in 2014's series 'Fresh Off the Boat.' Also, he guest-starred in 'Grey's Anatomy' and 'Dr. Ken.'
https://www.instagram.com/p/B4G3RrcDCaJ/
In addition to his acting career, Ian is a trained singer and also performed live. He appeared in the Hallmark Channel. The teem actor makes quite a good say money from his acting as well as commercials. Further, he involved in charity as well.
When he is not working on the set, he enjoys playing musical instruments like guitar and violin, as well as reading and watching TV. He also speaks Mandarin fluently.  
Lucille Soong Net Worth
Chinese born actress Lucille Soong moved to American when she was 22. Lucille is most famous for its role as Jenny Huang on ABC's series "Fresh Off the Boat." She is the mother of Louis and grandmother of Eddie, Emery, and Evan. In one of the episodes of season four, the family discovers that Jenny has been taking ESL class secretly, and then she speaks English for the first time.
Soong was first to discover by the famous English director Lewis Gillbert and was cast as bride in the feature film "Ferry To Hong Kong" along with Orson Welles.
Lucille guest-starred in the British series 'Coronation Street,' and later landed at a lead role in the American Movie 'One More Time.' Some of her notable characters include Desperate Housewives, According to Jim, Huff, and Bones, and so on.
As per sources, Lucille Soong has an estimated net worth of around $1 million. However, the salary she paid by Fresh Off the Boat is not known.
Chelsey Crisp Net Worth
Chelsey Crisp stars as Honey Ellis, the Huangs family's next-door neighbor and best friend of Jessica. She has a recurring role in season one and appears as the main from season two. In the previous season, she gave birth to her first child, a daughter, and the second child was born in the sixth season.
Crisp is a versatile actress, writer as well as producer. Throughout her career, she was a part of many television series, including New Girl, Mike & Molly, Happy Endings, The Office, NCIS, CSI: Miami, and many more.
Also, she appeared in the movie 'Life with Dog' and Netflix's series 'Lawfully Yours.' Chelsey Crisp accumulates a net worth of $2 million. She earns her worth from various fields like acting, comedy, and writing, on the other hand, her husband, Resse's net worth is $20 million.
The 35 years old actress has been married to her husband Rhett Reese since 2016. The mother of two resides in Los Angeles.
Ray Wise Net Worth
Veteran actor Ray Wise has received much acclaim in his career, playing the various roles in the TV, films, and stage. He played the leading part of Marvin Ellis, husband of Honey Ellis and neighbor of Louis. Marvin is a successful dentist.
Ray has starred in many movies such a Good Night and Good Luck. He played opposite Bryan Cranston in "All the Way" and starred in Netflix's series 'Gilmore Girls.'
Ray has received many accolades and nominations throughout his career for his work. Back in 2015, he won the Daytime Emmy Award for Outstanding Special Guest Performer in Drama series for 'The Young and the Restless.'
Some of his works include The Tooth of Crime, RoboCop, Jeepers Creepers 2, and Batman: The Killing Joke. Ray makes millions of worth from his acting skills. As of now, Ray Wise's net worth is believed to be $7 million. Wise currently lives in Southern Californian with his wife and kids.
Trevor Larcom Net Worth
Trevor Larcom is a teen actor who prominently gained widespread renown for his work as Chad Velcoro on the HBO drama series 'True Detective.' He has a recurring role Trent, a schoolmate of Eddie on ABC hit series 'Fresh Off the Boat.'
Trevor was born and raised in California. He made his debut role at the age of seven in the TV series House MD. Also, he appeared in the Disney Channel series 'iCarly.' The teen actor makes the right amount of money from his roles. But his net worth is still behind the curtain.
Evan Hannemann Net Worth
Evan Hannemann is bet known for his portrayal as Barefoot Dave in the ABC's 'Fresh Off the Boat.' Also, he played a minor role as Young Ben in 2015's Fantastic Four.
Evan was born in Pleasanton, California, and has an older sister named Ryan Nicole. The 17 years old actor took acting classes in southern California and also performed in DEE Studio Productions and Rio Norte Jr High theater productions. Evan makes thousands of dollars salary from his acting career. However, Evan's net worth has remained under the radar.
Fresh Off the Boat: True Stroy or Fake?
Fresh Off the Boat is the most popular show in the ABC network. The series is based on the true story of an inspirational chef and iconic TV personality, Eddi Huang. First of all, he started to write a blog of the show's name, "Fresh Off the Boat," which he later transformed into a memoir of the same name about his experience as an Asian American immigrant.
After one year, the memoir caught the attention of ABC and purchased it immediately. Subsequently, the biography turned into a sitcom, and it is one of the hit series on ABC.
The show follows the life of Huang's family move from DC to Orlando, where his father opened several restaurants. It shows, from his mother at home, and American cuisine from his father's restaurants.
New Season or Canceled After Season Six?
"Fresh Off the Boat" as funny as it is, also has diversity and representation importance for being the longest-running series about an Asian-American family. According to Vulture, ABC notified the production that the show would be ended after season six. ABC confirmed that the finale of the series would be air on 21st February 2020.
As the show's ratings consequently have been on a down low in recent years. Thus, ABC moved "Fresh Off the Boat" from its Tuesday Family night. This show's stars also message via their social media, stating, this season will be the last of the Fresh Off the Boat.
Fresh Off the Boat Cast's Net Worth Table
| | | |
| --- | --- | --- |
| Cast | Net Worth | Active Year |
| Randall Park | $1 million | 2015-2020 |
| Constance Wu | $6 million | 2015-2020 |
| Hudon Yang | N/A | 2015-2020 |
| Forrest Wheeler | N/A | 2015-2020 |
| Ian Chen | N/A | 2015-2020 |
| Lucille Soong | $1 million | 2015-2020 |
| Chelsey Crisp | $2 million | 2015-2020 |
| Ray Wise | $7 million | 2015-2020 |
| Trevor Larcom | N/A | 2015-2020 |
| Evan Hannemann | N/A | 2015 |