Originally posted on April 9, 2020 @ 12:14 pm
Cars restoration and fabrication shows will come and go, but none will replace one of the OGs of the shows in this genre. Yes, we are talking about the hit History Channel show 'Counting Cars.'
The show has been around for a while, but is it now ending? Is Counting Cars Canceled or renewed? Learn about the fate of the show, but first, meet the cast behind the hit show.
Danny Koker leads the Counting Cars along with Roli Szabo, Ryan Evans, Shannon Aikau, Kevin Mack, Scott Jones as well as Michael Henry. Some of the cast's net worth and bio will have you surprised, so do not forget to make it thoroughly through this article.
Danny Koker's Net Worth, Married Life & Bio
Net Worth & Career
Danny Koker, also famous as "The Count," is the owner of Count's Kustoms. Born on January 5, 1964, as Daniel Nicholas Koker II in Detroit, Michigan, he grew up and around cars as his father was an executive of the Ford Motor Company. With a family dwindling around cars, Koker began to rise in popularity as a self-taught mechanic in not just Detroit and Michigan but also Cleveland, where he partially grew up.
He's been in the game for over 20 years now, and thus, when it comes to hunting, bargaining, and remodeling of a classic car or bike, there is not a man better. If Koker wants to buy something, he will do whatever it takes. However, with creative stubbornness comes a destructive factor, which is probably why his employees and fellow cast how to make him stop.
Danny Koker, along with his own show 'Counting Cars' appears in multiple other History Networks' shows like 'Pawn Stars,' and 'American Restoration.' His celebrity status is that worthy of millions in his net worth, and so it is in reality.
Danny Koker's net worth as of 2012 was $13 million. However, it has been years since anyone has revaluated Danny Koker's net worth, so it may easily be a much more substantial amount than $13 million.
Married Life, House & Cars
We can easily count on the person who hunts, buys restores, and sells cars to own some great vehicle himself. How about Danny Koker's house, though?
We do know that Koker owns a house in Las Vegas, Nevada, where he resides with his family, but no further details of his home are there to know. He does not have any kids, but he probably lives a great married life with his wife, Korie Koker.
When it comes to his car collections, we see him driving around his 1956 Chevy Pick-up with flames. He also eventually drives around in his 1965 Cadillac Fleetwood, but we have caught him saying that his favorite ride is a 1972 Ford Roadster.
Kevin Mack's Net Worth & Married Life
Kevin Mack is not just the general manager of Danny Koker's 'Count's Kustoms' but also his right-hand man, best friend of 20 years, and his collateral, every time he takes a strangers car for a test drive. He also goes by the name of Mack Daddy, who fell into the Managerial position after their former co-star, Scott Jones, left.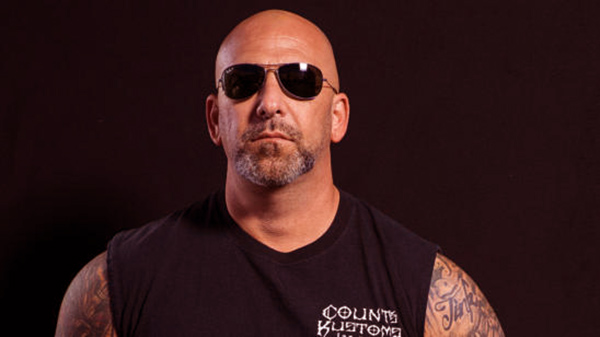 Kevin Mack's job as a general manager must have a handsome salary, but the experience itself is more rewarding. Also counting in his salary from the show, Kevin Mack's net worth is estimated to be approximately $10 million.
Kevin Mack's married status, for the time being, is unavailable. He is incredibly secretive when it comes to his marriage and family life. So, imagine even our surprise when we got to meet Kevin Mack's son in 'Counting Cars.'
Kevin Mack's son, Devin, is a skillful Legends Car racer, which is a form of auto-racing involving cars from the 1930s and 40s. Well, Devin or "Cheeky" has been racing a Legends car for the Counts Kustoms since he was 13 years old. Not too surprising when you find out that he was go-kart racing since the age of 8. Despite knowing this, we have no info on his married life or wife.
Scott Jones's Net Worth & Bio
Scott Jones was only in the show 'Counting Cars' for three seasons, leaving in between season 2 and 3. Jones was the manager of Count Kustoms before Kevin and throughout his appearance in 'Counting Cars.' In the show, Scott was often the authoritative figure as you may recall even him giving a tour of the workshop; he was making his employees do a push-up for slacking at work.
Caption: Scott Jones's shows you the Count's Kustoms
You can't blame Scott; however, as the bookkeeper of the company, it was his job to make sure there were no loose ties to making a profit. Due to this, he would also often butt heads with owner Danny Koker. Many thought these fights were the reason Scott Jones left the show.
However, there were no mentions of it in the show, and all we know is that he left the show because he moved to Tennessee after the birth of his son. Since then, we have not heard from Scott Jones; even his Twitter account has been inactive sine 2013, which is just when he left the show.
We know Scott Jones is married and has a son, but the identities of both his wife and son are something we don't have. Now that Scott Jones leads a private life, the task of exploring his personal life becomes even harder. Same is our dilemma with finding Scott Jones's net worth
Horney Mike aka Mike Henry's Net Worth & Bio
You don't have to wonder much where Mike Henry gets his more popular nickname of 'Horny Mike. Henry has an obsession with putting horns on everything, not just the bikes and cars he designs but also helmets and jackets, which is where he gets the name. Mike's horns are, however, light-weight and comfortable to wear, which caught the attention of The Count, Koker, who hired him to work for him.
Mike was keen on repairing and customizing cars since his early days when he was living in a trailer park. Even after graduating, it became more of a necessity as he was fixing up cars to pay the bills as he was living in a fan. His craft as a mechanic has certainly flourished after joining Danny Koker's crew, but it is his artistic talents as a spray-painter and creative designs that take the cake.
Caption: Horney Mike Bio
It is not just his skills that have evolved but also his net worth. Horney Mike's net worth as of 2018 was $2 million. This probably comes from his salary from the show and Count's Kustoms but also from his products like jackets, helmets, other headgears he sells.
Roli Szabo's Net Worth & Married Life
You often see Roli Szabo in 'Counting Cars' polishing cars after everything is done, but he takes an active part in the creative process as well. Roli Szablo's Hungarian accent is a subject of great amusement among his co-stars and fans of the show alike. Roli Szabo, despite his appearance in the show from its inception in 2012, has minimal celeb status.
You can see this as Roli Szabo's net worth is still under review. Fortunately, we have info on Roli Szabo's married life. Roli Szabo is married to his lovely wife by the name of Tiff. They have a daughter together born in 2008.
Ryan Evans's Net Worth & Bio
Ryan Evans is the lead airbrusher and painter of Count's Kustoms. In his 20+ years of working for Danny, not only has he never disappointed the boss but left him amazed by his work every time. Evans was always a big fan of motorcycles, and ever since he began airbrushing in college, he did not look back.
It wasn't long before his works began to gain notoriety, and even Danny Koker saw some of his work in the streets of Las Vegas. Their co-star, Shannon Aikau, first got into contact with Evans, who introduced him to Danny Koker. It was a fruitful experience for him as, on top of having a platform to execute his art on exceptional vehicles, Ryan Evans also has a net worth of around $3 million.
Even in his personal life, he lives a successful married life. He is married to longtime wife Dana Pauley since March 15, 2015. They have a son together by the name of Logan Evans. They now lead a perfectly normal family life in Las Vegas, Nevada.
Shannon Aikau's Net Worth & Married Life
Shannon Aikau is also a manager and the lead builder in Danny Koker's shop. He has forever been a lover of motorbikes and automobiles, but like co-star, Roli Szabo, he prefers the first kind of vehicle. Danny Koker does not just have eyes to spot out cars but also employees. All it took was one look at Shannon's work and artistry to understand his talents and quickly offered him a job.
Shannon Aikau's net worth from the excellent skills and experience he possesses is still under review. We aren't that surprised as even his married life is very foggy when it comes to information. Shannon is a married man and a father of two. His children are both daughters, but the identities of none of her family members are available to the media.
Some other cast members include Big Ryan, Harry "Grandpa" Rome, Joseph "Doc" Duggan, and George. However, the following cast has a minimal appearance on the show and very little information about their net worth and married life. If we were to name them, we would have to call Rick Harrison from 'Pawn Stars' first, who relatively has much more apparent than them.
Counting Cars New Season Canceled?
We waited, we waited, and then we waited some more, so, WHERE IS THE NEW SEASON OF COUNTING CARS? Sorry for our aggression there, but it has just been so long. Counting Cars' latest season was its 8th season, which was in 2018, and it releases one season per year. There have been no reports from then till now about the Counting Cars' new season yet.
Caption: Counting Cars Season 8 preview of a coo corvette
Is the Counting Cars canceled? As we said, we have no information regarding its new season. Frankly, we are kind of angry at the show's network or other responsible parties for not informing us and other fans about what is happening. Even their social media pages do not clarify why 'Counting Cars' does not have a new season yet.
However, on the bright side, it means that the show isn't canceled yet. The show and its cast are still active in other activities like the recent 'History-con.'